Blue Ridge Parkway
For an unforgettable road trip filled with scenic peaks, secluded campgrounds, and outdoor activities, hit the Blue Ridge Parkway, traversing the NC Triad's Mountain Gateway.
About the Parkway
The Blue Ridge Parkway, spanning 469 miles between North Carolina and Virginia, is one of the most visited National Park Service attractions nationwide. The parkway is divided into four regions – Highlands and Pisgah in North Carolina and Ridge and Plateau in Virginia. It's open year-round, weather permitting, and welcomes every motorist – motorcyclists, RVers, and road cyclists.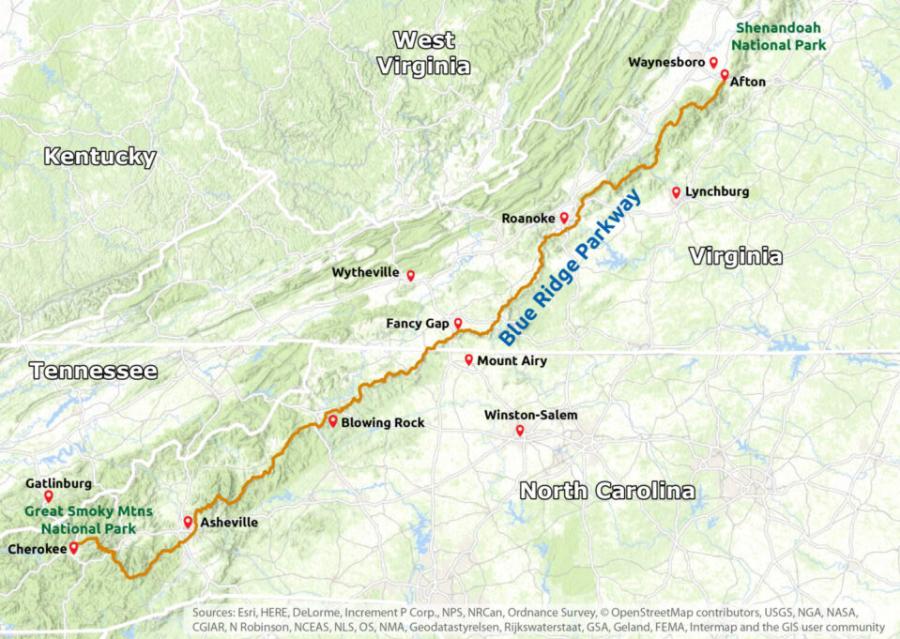 Must-See Stops
A must-see Triad spot is Mount Airy, situated in the Highlands region of the parkway. There, you'll find small-town charm and a slice of Hollywood in the Mountain Gateway. Mount Airy is actor Andy Griffith's hometown and is the location of the fictional Mayberry on "The Andy Griffith Show." While in town, visit the Andy Griffith Museum and the actor's home, or take a squad car tour. Mount Airy is also home to countless antique shops, breweries, and restaurants, like local favorite Snappy Lunch.
Near Mount Airy are Pilot Mountain and Hanging Rock state parks, with activities ranging from rock climbing to paddling. If you'd like to stay the night, pitch a tent or park your RV in one of the campsites and soak in the Triad a little longer before hopping back on the parkway.
Over 100 miles of hiking trails – easy to strenuous – are accessible on the parkway. You can also access North Carolina's Mountains-to-Sea Trail along the iconic road.