Yadkin River State Trail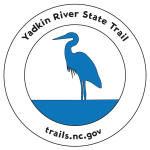 The Yadkin River begins in the Appalachian Mountains near Blowing Rock and flows through the Piedmont for 203 miles to Lake Tillery, where its name changes to the Pee Dee River.  The navigable waters start below the Kerr Scott Reservoir near Wilkesboro and continue for 163 miles to the confluence of the Uwharrie River at Morrow Mountain State Park.  This portion was designated as the Yadkin River State Trial in 1985 as a blueway or water trail. 
Currently there are 17 public launch points for paddlers to access the river, with more planned in the future, between Kerr Scott Dam and High Rock Lake. Travel times between each point vary, offering paddlers options for short trips (1-2 hours) or longer day trips.  For more information, see both the PDF brochure map and online interactive map below, or reach out to the Yadkin River Keeper.  
| | | |
| --- | --- | --- |
| Download the brochure map: |   | View the interactive map: |
| | | |
| | | | |
| --- | --- | --- | --- |
| Access Name | Address | Miles to Next | Hours to Next |
| 01) Kerr Scott Dam | 202 Ranger Rd, Wilkesboro, NC 28697 | 6.8 | 2.5 |
| 02) Smoot Park | 202 Chestnut St, North Wilkesboro, NC 28659 | 10.5 | 3.5 |
| 03) Roaring River Access | 9214 Elkin Highway, Roaring River, NC 28669 | 5.2 | 2.0 |
| 04) Ronda Memorial Park | 238 Clingman Rd, Ronda, NC 28670 | 7.0 | 2.5 |
| 05) Crater Park | 310 Standard St, Elkin, NC 28621 | 6.1 | 2.0 |
| 06) Burch Station | 116 Greenwood Circle, Elkin, NC, 28621 | 4.7 | 1.5 |
| 07) Yadkin Shore | 8420 US 601 Hwy, Boonville, NC 27055 | 16.9 | 5.5 |
| 08) Pilot Mountain State Park (Shoals) | 4454 Shoals Rd, East Bend, NC 27018 | 6.9 | 2.5 |
| 09) Donnaha | 6131 Donnaha Park Rd, East Bend, NC 27018 | 6.6 | 2.5 |
| 10) Old US 421 River Park | 7695 Yadkinville Rd, Lewisville, NC 27023 | 5.4 | 2.0 |
| 11) Hunstville | 5600 Courtney-Huntsville Rd, Yadkinville, NC 27055 | 10.8 | 3.5 |
| 12) Tanglewood Park | 4061 Clemmons Rd, Clemmons, NC 27012 | 16.7 | 5.5 |
| 13) US-64 | 6970 US 64, Lexington, NC 27295 | 9.4 | 3.0 |
| 14) Concord Church (NC-801) | 5897 NC801, Mocksville NC 27028 | 3.5 | 1.0 |
| 15) Boone's Cave Park | 3552 Boones Cave Rd, Lexington, NC 27295 | 4.9 | 2.0 |
| 16) Hannah Ferry | 955 Hannah Ferry Rd, Salisbury, NC 28144 | 4.9 | 2.0 |
| 17) Yadkin River Park (York Hill) | 11418 Old Salisbury Rd, Linwood, NC 27299 | - | - |