Yadkin River State Trail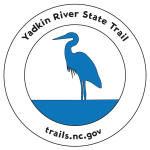 The Yadkin River State Trail in North Carolina is a 163-mile paddle trail, beginning below the Kerr Scott Reservoir (near Wilkesboro) and ending at the confluence with the Uwharrie River at Morrow Mountain State Park. The trail is marked with the blue heron blaze as a symbol for the habitat the river provides for numerous species.
Paddlers can access the Yadkin River from any of the 17 public launch points between the Kerr Scott Dam and the Yadkin River Park at High Rock Lake. Paddlers in canoes or kayaks should expect to travel approximately three miles in one hour, while tubing down the river may take double that time. Several outfitters are located along the river that offer kayak, canoe, or tubing rentals and a shuttle service between launch points.  Check out the table and listings below for more information about each launch site and the travel times/distances between them.
As another resource to help plan your trip down the river, check out the PDF brochure map and/or the online interactive map below.  For more information, reach out to the Yadkin River Keeper or the NC State Trails program.
Download the Yadkin River State Trail Brochure Map:

View the interactive map:
Yadkin River Access Launch Sites
| | | | |
| --- | --- | --- | --- |
| Access Name | Address | Miles to Next | Hours to Next |
| 01) Kerr Scott Dam | 202 Ranger Rd, Wilkesboro, NC 28697 | 6.8 | 2.5 |
| 02) Smoot Park | 202 Chestnut St, North Wilkesboro, NC 28659 | 10.5 | 3.5 |
| 03) Roaring River Access | 9214 Elkin Highway, Roaring River, NC 28669 | 5.2 | 2.0 |
| 04) Ronda Memorial Park | 238 Clingman Rd, Ronda, NC 28670 | 7.0 | 2.5 |
| 05) Crater Park | 310 Standard St, Elkin, NC 28621 | 6.1 | 2.0 |
| 06) Burch Station | 116 Greenwood Circle, Elkin, NC, 28621 | 4.7 | 1.5 |
| 07) Yadkin Shore | 8420 US 601 Hwy, Boonville, NC 27055 | 16.9 | 5.5 |
| 08) Pilot Mountain State Park (Shoals) | 4454 Shoals Rd, East Bend, NC 27018 | 6.9 | 2.5 |
| 09) Donnaha | 6131 Donnaha Park Rd, East Bend, NC 27018 | 6.6 | 2.5 |
| 10) Old US 421 River Park | 7695 Yadkinville Rd, Lewisville, NC 27023 | 5.4 | 2.0 |
| 11) Hunstville | 5600 Courtney-Huntsville Rd, Yadkinville, NC 27055 | 10.8 | 3.5 |
| 12) Tanglewood Park | 4061 Clemmons Rd, Clemmons, NC 27012 | 16.7 | 5.5 |
| 13) US-64 | 6970 US 64, Lexington, NC 27295 | 9.4 | 3.0 |
| 14) Concord Church (NC-801) | 5897 NC801, Mocksville NC 27028 | 3.5 | 1.0 |
| 15) Boone's Cave Park | 3552 Boones Cave Rd, Lexington, NC 27295 | 4.9 | 2.0 |
| 16) Hannah Ferry | 955 Hannah Ferry Rd, Salisbury, NC 28144 | 4.9 | 2.0 |
| 17) Yadkin River Park (York Hill) | 11418 Old Salisbury Rd, Linwood, NC 27299 | - | - |