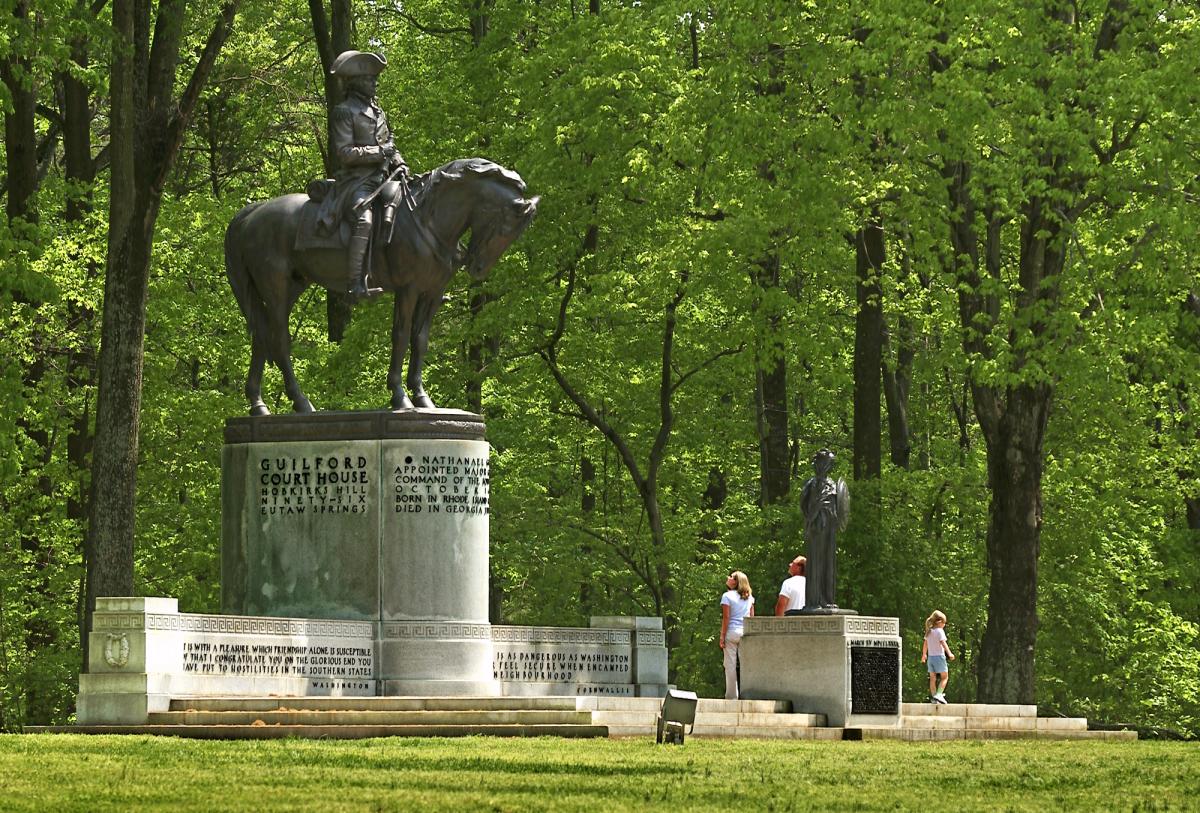 Battleground Avenue, Greene Street, Cornwallis Drive.  These are not just random street names, but reminders of the immensely important events that occurred in the heart of the Piedmont Triad nearly 250 years ago.  The Battle of Guilford Courthouse which was fought in what is now northwest Greensboro was one of the pivotal and defining moments that birthed our nation.
In March, 1781, General Nathaniel Greene, Greensboro's namesake and George Washington's most trusted general, lead Continental Soldiers and militias from North Carolina & Virginia against the infamous British general, Lord Charles Cornwallis, across the Piedmont region of the North Carolina Colony. The actions of General Greene and his men placed General Washington and the main Continental Army in a position to defeat Cornwallis at Yorktown seven months later and secure our fledgling country's freedom.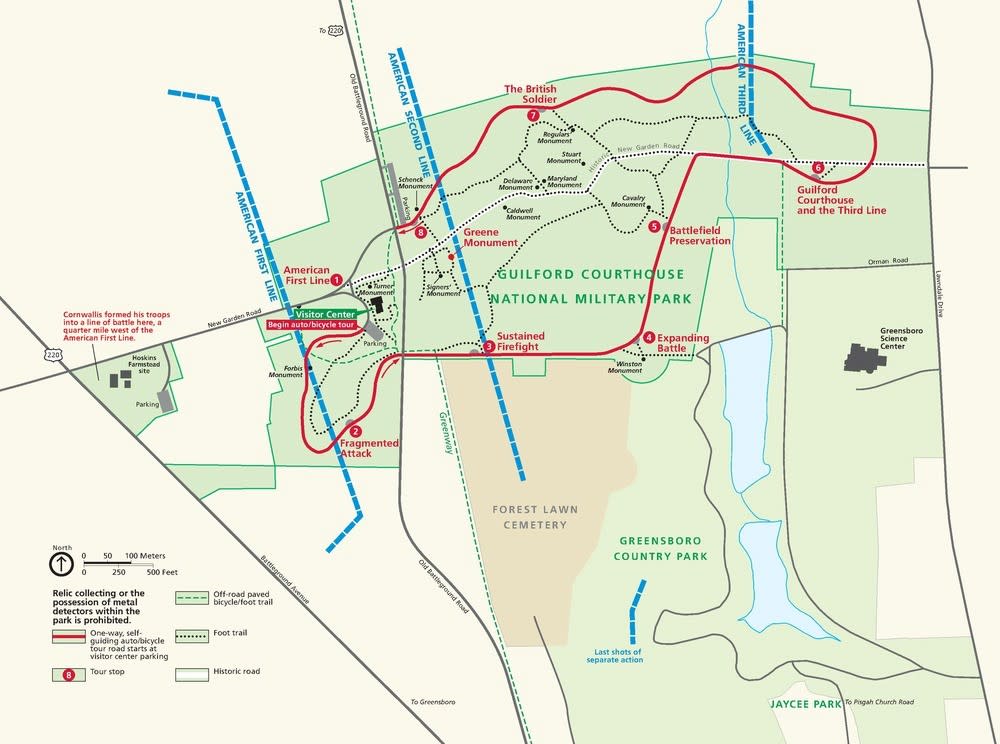 Today, Guilford Courthouse National Military Park is located on Old Battleground Road in Greensboro, directly backing up to Greensboro's Country Park and the Greensboro Science Center.  The park, which was established in 1917 has over 3 miles of trails for hikers and bicyclists alike.  Along the route are several sites which are part of a self-guided audio tour and commemorative monuments honoring events and war heroes such as Greene, the "Virginia Giant" Peter Francisco, and Reverend David Caldwell (whose name can also be found all across Greensboro).  Visitors can walk along the gravel remnants of the historic New Garden Road, a name that readers will recognize, but might not know as one of the oldest roads in the Triad Region.
Plentiful wildlife can be seen along the park's trail system as well.  From white-tailed deer to grey foxes to dozens of colorful songbirds and even red-tailed hawks and other birds of prey occupying the site, visitors have a chance to observe local wildlife and commune with nature in a natural oasis amid the hustle and bustle of the surrounding area.
Greensboro's rich history is important not only to the region and the State, but to the very fabric of our Nation.  Hiking and biking through Guilford Courthouse National Military Park is a small, but very important and enjoyable way to experience some of that history first-hand.  The park is open daily (except Thanksgiving, Christmas, and New Year's Day) from 9:00 am to 5:00 pm for vehicles and from dawn to dusk for pedestrians and cyclists.  Parking is available at the visitor's center near the historic Hoskins House at the corner of Battleground Avenue and New Garden Road, as well as along Old Battleground Road and throughout the park itself.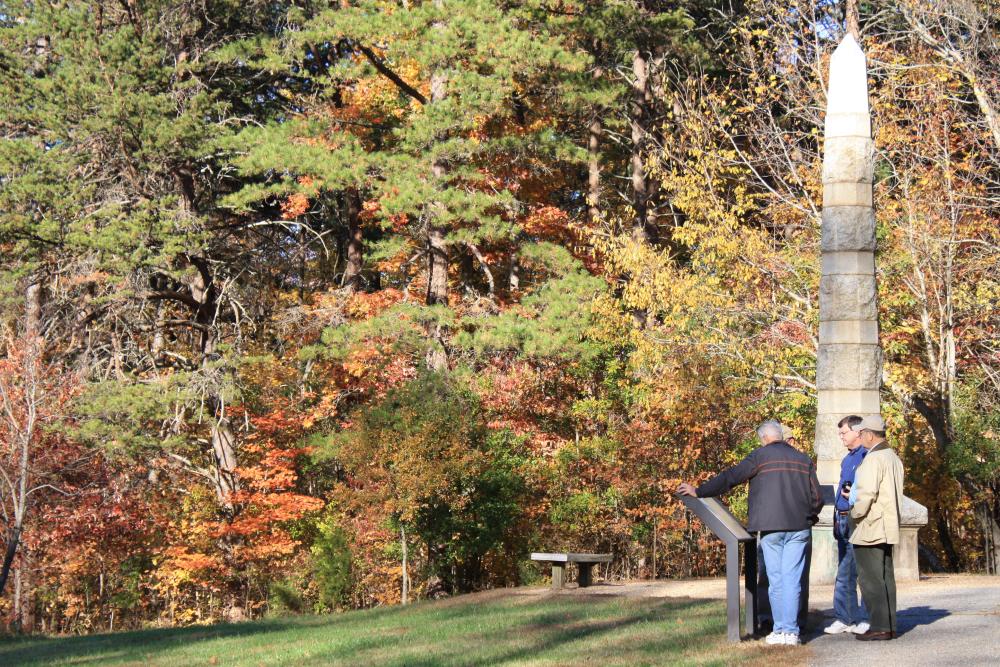 Discover more outdoor recreation opportunities and learn about the Piedmont Triad's revolutionary past!
The Overmountain Victory National Historic Trail, which has its trailhead in Elkin, NC (Surry County), stretches roughly 330 miles from its southern terminus in South Carolina through North Carolina and into Tennessee and Virginia, and follows the paths that the patriot militia took as they mustered to fight the Battle of Kings Mountain in 1780. This battle proved to be pivotal in the Revolutionary War.
High Rock Ford in Rockingham County is where General Nathanael Greene and his army encamped  before the Battle of Guilford Courthouse during the American Revolution.  Today, the High Rock Ford Historic Site includes 1/4 mile walking trail, gravel parking lot, Haw River paddle access, and historic signage.
In 1771, an armed group of backcountry farmers calling themselves Regulators battled with Royal Governor William Tryon's militia on land now preserved at Alamance Battleground State Historic Site in Burlington.