What do publicly accessible trails and greenways mean to us? The answer undoubtably took on new meaning and importance in the wake of the COVID-19 pandemic, even if the question has always been vital. A group of forward-thinking and outdoor-minded stakeholders framed the question at a state scale to see what can happen when attention, advocacy, and funding can come together around trail development. Several trail organizations, including the Piedmont Legacy Trails, formed the Great Trail State Coalition (GTSC) to increase awareness of the benefits of trails and advocate for State funding. The idea was to build on the increased trail usage during the COVID-19 pandemic and the addition of six State Trails in two years.
After the GTSC decided to request the NC General Assembly to designate 2023 as the Year of the Trail (YOTT), the year is in full swing. Organizations of all kinds are holding events in all 100 counties, which also court elected officials so they can see first-hand the value of trails to all who live, work and visit North Carolina.
To make this year a big success, GSTC hired consultants and invested in a multimedia campaign including a website, toolkit for events, calendar, videos, social media, radio and billboards. Check out the work here: https://greattrailsnc.com.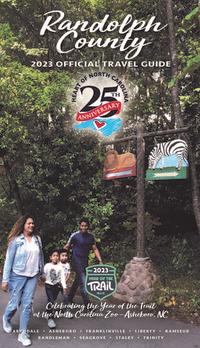 In Randolph County, the Heart of NC Visitor Bureau/Tourism Development Authority (TDA) is featuring the YOTT on the 2023 Travel Guide along with its 25th Anniversary. The TDA also is providing promotional materials including banners, yard signs, stickers and T-shirts for all the YOTT events.
Randolph County Trails has 12 YOTT events planned and the 2023 Healthy Communities Monthly Hikes and Fall Mayor's Fitness Challenge feature the YOTT monthly themes. Both are free and all are welcome. So far YOTT events included First Day Outdoors in Franklinville in January, Worthville Boat Access Ribbon Cutting in March, and Asheboro's Center City Garden Ground Breaking on April 29. Each event featured a YOTT banner, signs, stickers and attracted many elected officials. Check the Heart of NC Event Round Up site for events planned for the rest of the year.
| | | |
| --- | --- | --- |
| | | |
| Deep River Trail in Franklinville | Worthville Boat Access Ribbon Cutting | Asheboro's Center City Garden Ground Breaking |