The reality is that Oak Ridge, N.C., resident Jonathan Beaver doesn't need much extra incentive to hike or run on the many trails in the NC Triad.
Since his days as a track and cross-country runner at Western Guilford High School, he's enjoyed wearing out shoes on trails from Pilot Mountain to Pleasant Garden and routes in between.
But now that he's settled into a career and fatherhood in the Triad, having fun reasons to stay on the trail helps.
He's found two: the North Carolina Trail Mega Medal Series and the fact that his 9-year-old son, Everett, routinely outpaces him.
"My son has been running with me for two years," Beaver said. "I love seeing him do something that is good for him, and that he enjoys. Makes me feel great to see him falling in my footsteps, no pun intended. I believe his favorite part is waiting for me at the finish line to ask me what took so long."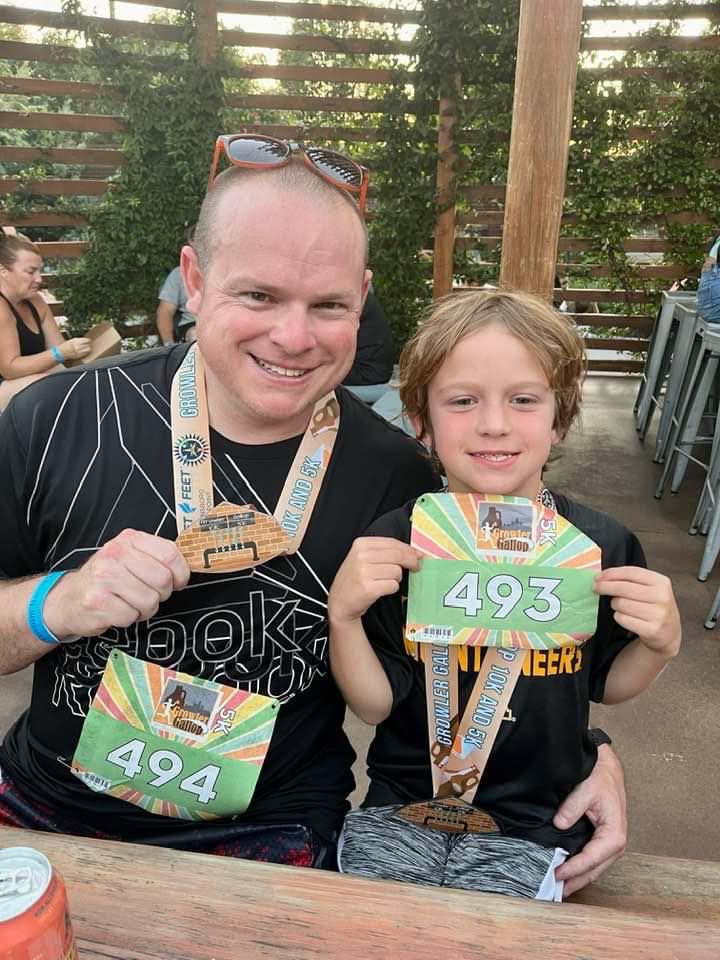 Race event company Trivium Racing organizes runs for all experience levels on trails throughout the Triad. The Trail Mega Medal Series consists of four events at different sites in Greensboro from January through October. Perks come with the full race package: food and drinks, race-specific T-shirts, and sponsor gifts.
"The scenery, people, charities, and community sponsors make these (races) enjoyable," Beaver said. "Most runs are tied to a charitable foundation that gives back to those in the Triad. I enjoy giving back to the community that has helped me become who I am today."
And don't overlook the appeal of the finisher's medals. Each runner who makes it to the finish line in the trail series gets a themed medal. The four medals collected at each race interlock to form a mega medal (hence the name). The combined mega medal can be as big as a dinner plate and dangles on necks like a blinged out chest protector.
A wall in the Beaver home looks like an entire country's Olympics medal display from races over the years. They are reminders of fun father-son moments, as well as why the Triad remained home for Beaver after graduating from Appalachian State University in western North Carolina.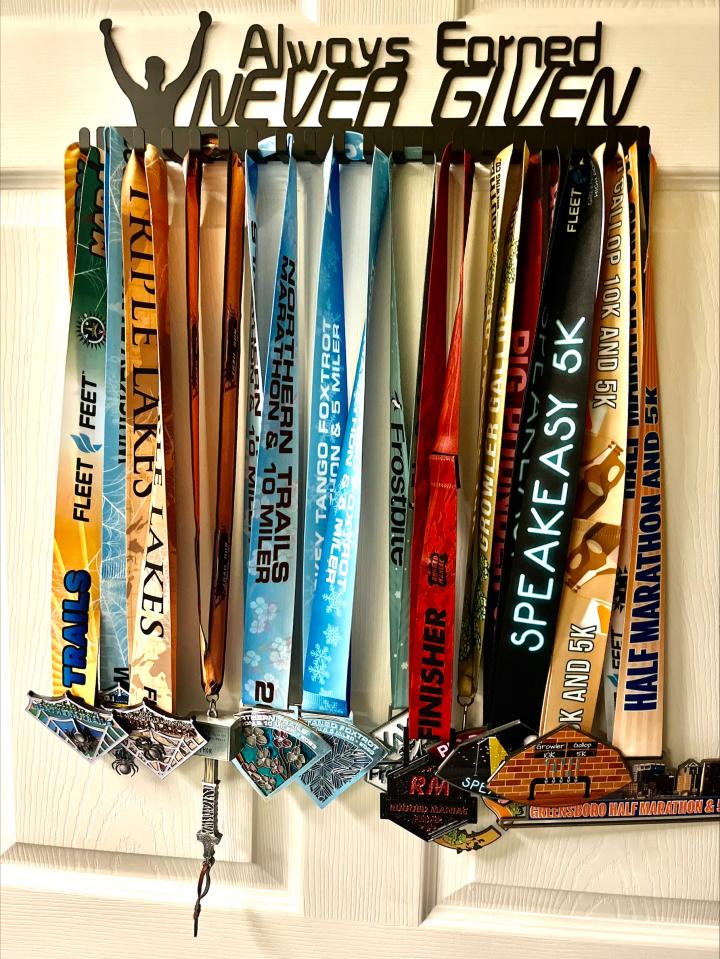 "The recreational choices available in the Triad exceed those of larger cities within North Carolina," Beaver said. "Whether you are a beginner or an expert, there is something for everyone just a few steps from their door."
For more about the N.C. Trail Mega Medal Series, visit Trivium Racing's site. Though the series is underway, folks can sign up for individual races. The next is the Owls Roost Rumble at Lake Brandt in Greensboro on Saturday, April 29, 2023.